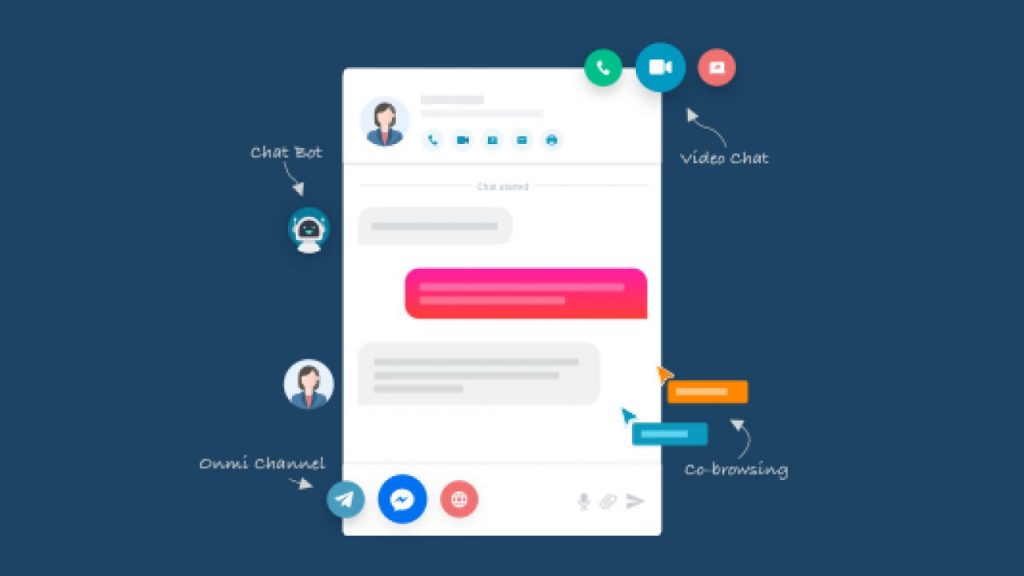 Sooner or later many of companies and organizations are comping to the point when they need a live chat on the website, as it's very convenient for customers. And luckily there are quite a lot of professional open source live chats which you can host yourself and have full control over data. It makes open source chats a really nice solution for businesses which do not want to pay to services or don't need all the extra features coming with commercial chats. To achieve full control over conversation you have to be running your chat solution yourself.
So let's see what open source live web chats are available today.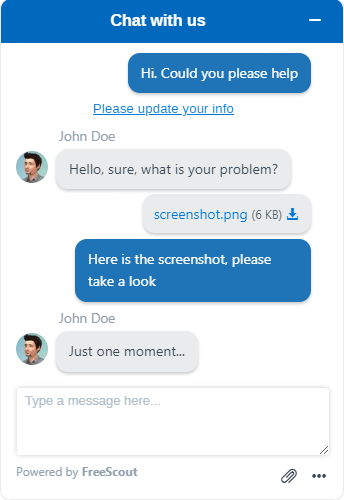 Technology: PHP
Live Demo: https://freescout.net/chat-demo/
In our review this is the only open source live chat which is built with PHP. It means it can be installed on the most of today's shared hustings. The chat solution is pretty much mature. It is fast and lightweight. The chat can be easily embedded into your website with just few lines of HTML-code. The position of the chat on the page, colors and language – all can be customized. This chat is the part of the free FreeScout helpdesk, so all the messages written by visitors in the chat on the website go to the helpdesk and can be processed by your customer support agents. You can require visitors to fill their email and name before writing to you or just let them message you anonymously.
Inside FreeScout you can connect live chat to each mailbox / department in your company and incoming messages will be directed straight to the corresponding support team. FreeScout Live Chat also allows to set Chat Operating Hours – if a customer opens live chat outside of chat operating hours he/she will see a Contact Form instead of a chat. Both your support team and customers will enjoy using the FreeScout as a live support tool.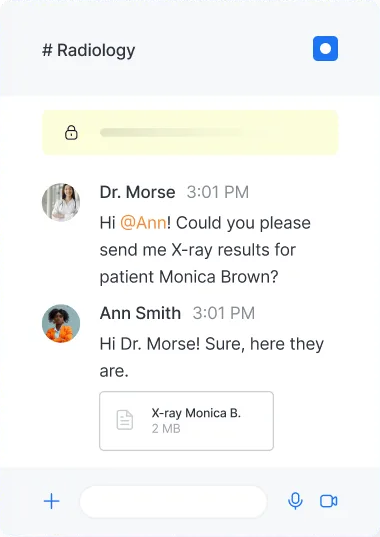 Technology: JavaScript
Rocket.Chat is built with JavaScript. It has about 34K stars on GitHub. It allows you to build your own private chat server. According to developers Rocket.Chat is the communications platform that puts data protection first. Rocket.Chat apparently was inspired by Slack and Mattermost. It looks and works pretty much like Slack. If you have not used chat software before finding your way around Rocket.Chat may be a little daunting.
It provides Channels, Direct Messages and Private Groups. After installing chat widget on the website you can communicate with your customers in real-time. Incoming chat messages are routed directly into the channel specified for customer support. The backend of the Rocket.Chat can be white labeled in order to look more like your own company's chat.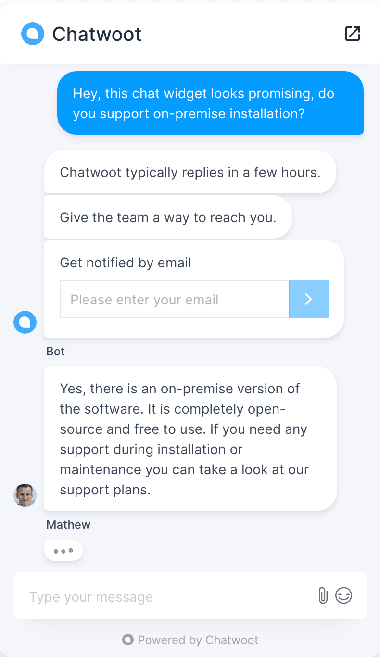 Technology: Ruby
Chatwoot is an open-source as well as cloud-based chat tool. It is built with Ruby and a little heavy, so you may need to be a bit familiar with Ruby to install it yourself. Chatwoot was made publicly available as an open source chat on GitHub back in 2019. It allows to manage all of your customer conversation channels from one place. The chat widget supports multiple languages and allows attachments. This tool has most of the basic features you would need in a live chat, however there is no chatbot available at the moment. Generally it is a good chat solution suitable for all types of companies, community websites, gaming websites, and NGO portals.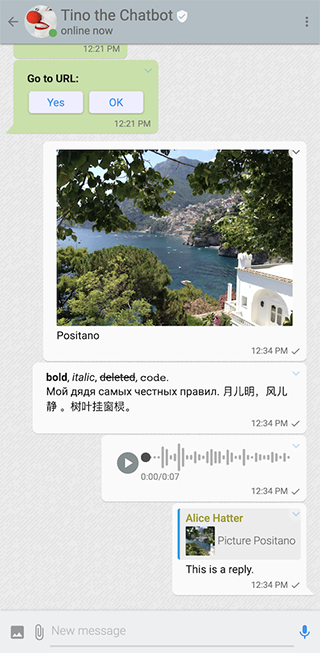 Technology: Go
Tinode is the free unlimited instant messaging platform and the web chat built in pure Go. Tinode chat helps companies around the world to provide high-quality chat experience to the customers. It uses web socket communication technology. Tinode can't be installed on a website, it's designed mostly for person-to-person communication.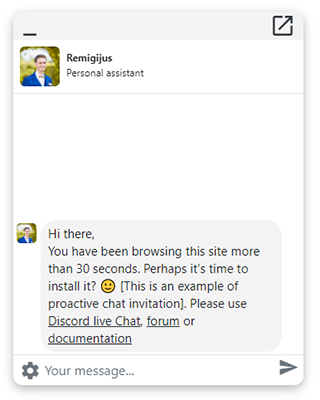 Technology: PHP + Python
Live Demo: https://livehelperchat.com/demo-12c.html
Live Helper Chat is the simple live chat support tool for your website. It's chat widget on the website looks a bit primitive and old-fashioned, but it does what it's supposed to do – allows customers contact your support. Live Helper Chat boasts such features as web and mobile apps, Voice & Video & ScreenShare, Telegram support, Twilio (WhatsApp), Facebook messenger including building a bot. It also has a bunch of integrations with other chats systems and messaging platforms.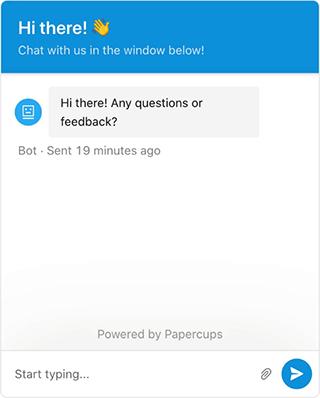 Technology: Elixir
Live Demo: https://app.papercups.io/demo
Papercups provides a customizable chat widget you can embed on your website to talk to your customers. Papercups allows you to streamline communication with your customers. Developers position their web chat as an open-source alternative to Intercom, Drift, and Zendesk. According to the disclaimer on the GitHub this chat solution is currently in a Maintenance Mode, i.e. there won't be any major new features in the near future, the Team accepts pull requests and conduct major bug fixes.
Some of it's features: reply from email, reply from SMS (via Twillio), conversation management, markdown and emoji support.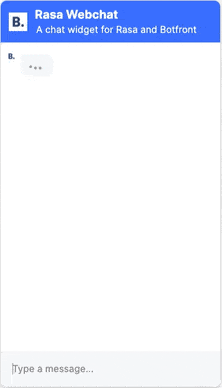 Technology: JavaScript
Rasa is the web chat for Rasa and Botfront platformts. It allows to add a virtual assistant on any website. It uses Apache-2.0 license. Some of it's features: quick replies, carousels, persistent sessions, typing indications, smart delay between messages. It also can be easily imported as a script tag or as a React Component. Rasa chat solution is highly extendable and fully customizable, it also provides a large number of configuration parameters allowing to adjust every single aspect of the chat widget. So it will satisfy most of your needs and requirements. Highly recommended chat tool.
---
CONCLUSION
The chat on your website tells a lot about your business to the customer, it creates the first impression about you. If your web chat is not effective or clumsy you may loose potential customers. That's why it's important to carefully choose the live chat for your company. So we wish you to make the right choice and delight your customers with the top-level customer support!