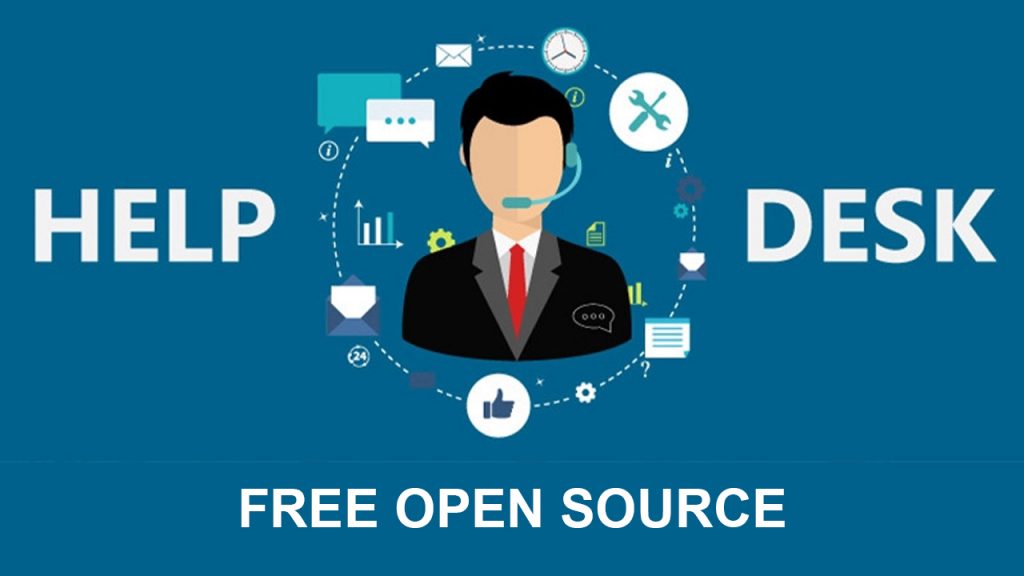 In the old days customer support was provided mostly by email or by phone. But today customers prefer to contact businesses via convenient for them channels like Facebook, WhatsApp, Telegram, etc. Luckily there are open source helpdesk solutions allowing to serve in one place all customer's requests received via different channels.
Most businesses and organizations are usually starting from cloud-based helpdesk solutions as it's easy to start – all you need to do is to a pay monthly fee. But as your company grows your expenses on the ticketing system are also growing as SaaS support systems are usually charging a per-support-agent or per-ticket basis. And some point many are coming to the point where it becomes obvious that using an open source helpdesk on your own server will be much cheaper and more secure than using online helpdesk software.
So let's see what are the best open source helpdesks to use in 2023.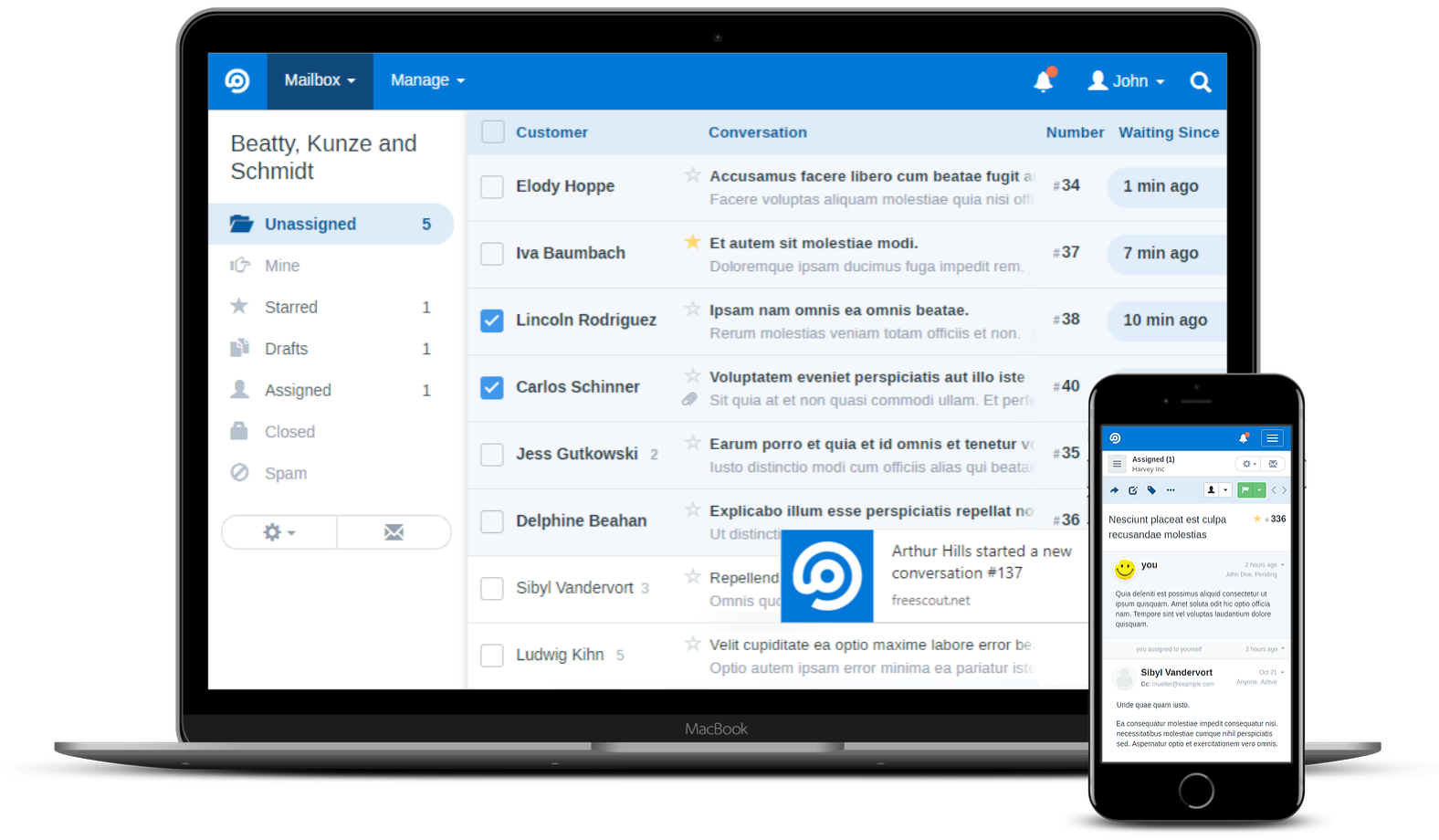 Technology: PHP
GitHub: https://github.com/freescout-helpdesk/freescout
Developers are describing FreeScout as the super lightweight free open source help desk and shared inbox. We've installed it and yes – it is really lightweight (it's distribution kit is just 10 MB), and it can be used even on a shared hosting. All you need to do to start using it is to connect it to your email address and all incoming emails will be turning into support tickets. The interface of the helpdesk is very slick and neat, it's design and usability is simply the best among all the systems we've checked. Helpdesk provides free mobile apps for iOS and Android. It also has an excellent collection of extensions allowing you to turn it into top level support solution and satisfy most of your needs:  WhatsApp, Facebook, Telegram integration, LDAP, Knowledge Base, CRM, End-User Portal with the form for submitting tickets, Kanban mode, Live Chat widget for the website, etc. Besides you can also create your own modules – they work just like plugins in WordPress, simple and effective.
This helpdesk tool gave us very good impression. It's fast and not bloated or overloaded with features which you never use. Support agents enjoyed using it, it's very easy to switch to it and start processing tickets. Even visually impaired support agents are able to use it! The only thing we were missing is the ability to split one ticket into two as sometimes it's really needed, but hopefully FreeScout Team with time will add this feature too.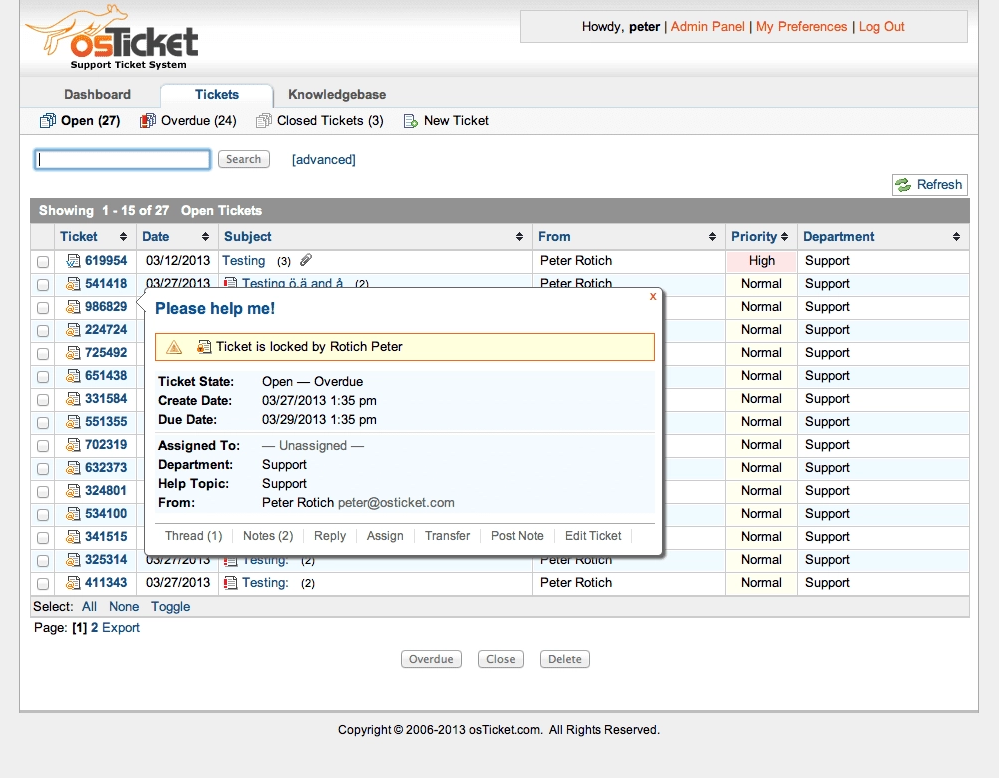 Technology: PHP
GitHub: https://github.com/osTicket/osTicket
OSTicket allows to scale and streamline your customer service and as a result improve your customer's experience. OSTicket is widely-used open source support ticket system. It's one of the oldest – it's first release on GitHub was in 2013. The average distribution kit's size is 50 MB. The helpdesk has a bit old-fashioned interface, but it does what it's supposed to do – allows to process support requests. Customers are able to create tickets via your website, email or phone. Agents can be assigned to different departments and have different roles. OSTicket provides a standard set of helpdesk features: custom fields, auto-responder, agent collision avoidance, SLA, customer portal and also allows to add tasks to tickets. OSTicket collects inquires via email or web form. It does not provide official mobile apps, only 3rd party apps are available.
Our overall impression of this tool was quite good. If you need an open source helpdesk and you are not focused on a super modern design and UI – OSTicket is your choice.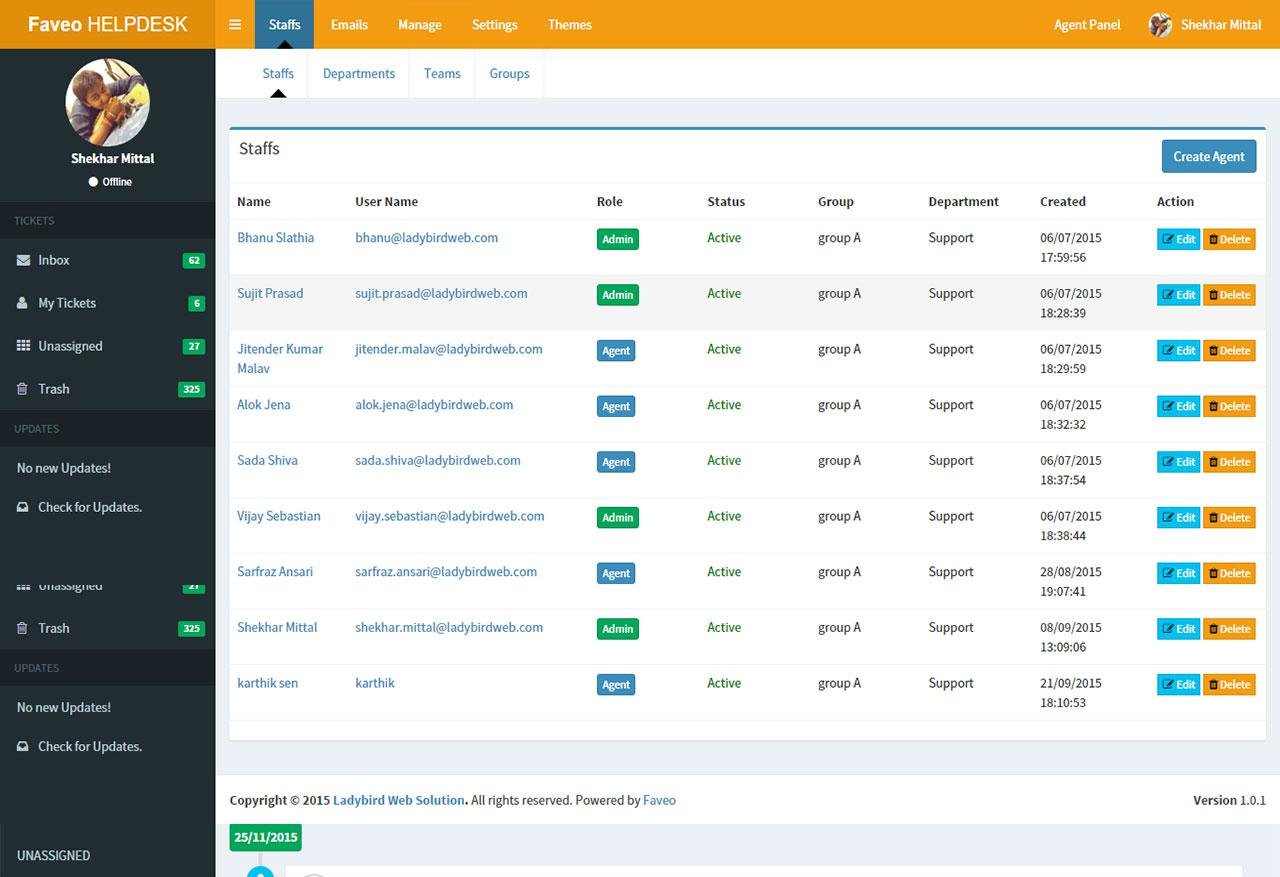 Technology: PHP
GitHub: https://github.com/ladybirdweb/faveo-helpdesk
Faveo developers describe it as a customizable, omni-channel open source helpdesk software built on Laravel framework. There are different editions of the helpdesk: Community Edition, Freelancer, Pro Edition and Service Desk. We've tried to check online demo but it just showed us an empty page. The open source Community Edition version distribution kit is quite heavy – about 95 MB. Apparently Faveo Team is trying to maintain free and paid versions of the helpdesk, but it looks like the free open source version is not very actively maintained – the last release was in 2021. GitHub repo has about 4,150 open issues which is quite a lot. We also found it a bit difficult to navigate in Faveo's documentation, but finally we've managed to install it on Ubuntu with Nginx.
While checking it there a bit of a feeling of "clumsiness". The helpdesk has a lot of options, and sometimes it's not very easy to find what you need. It has approval workflows, priorities & ticket types, daily reports, etc. Free open source version of the helpdesk does not allow to use it in the mobile app. So the free edition of the helpdesk lives it's own life while the paid version – it's own.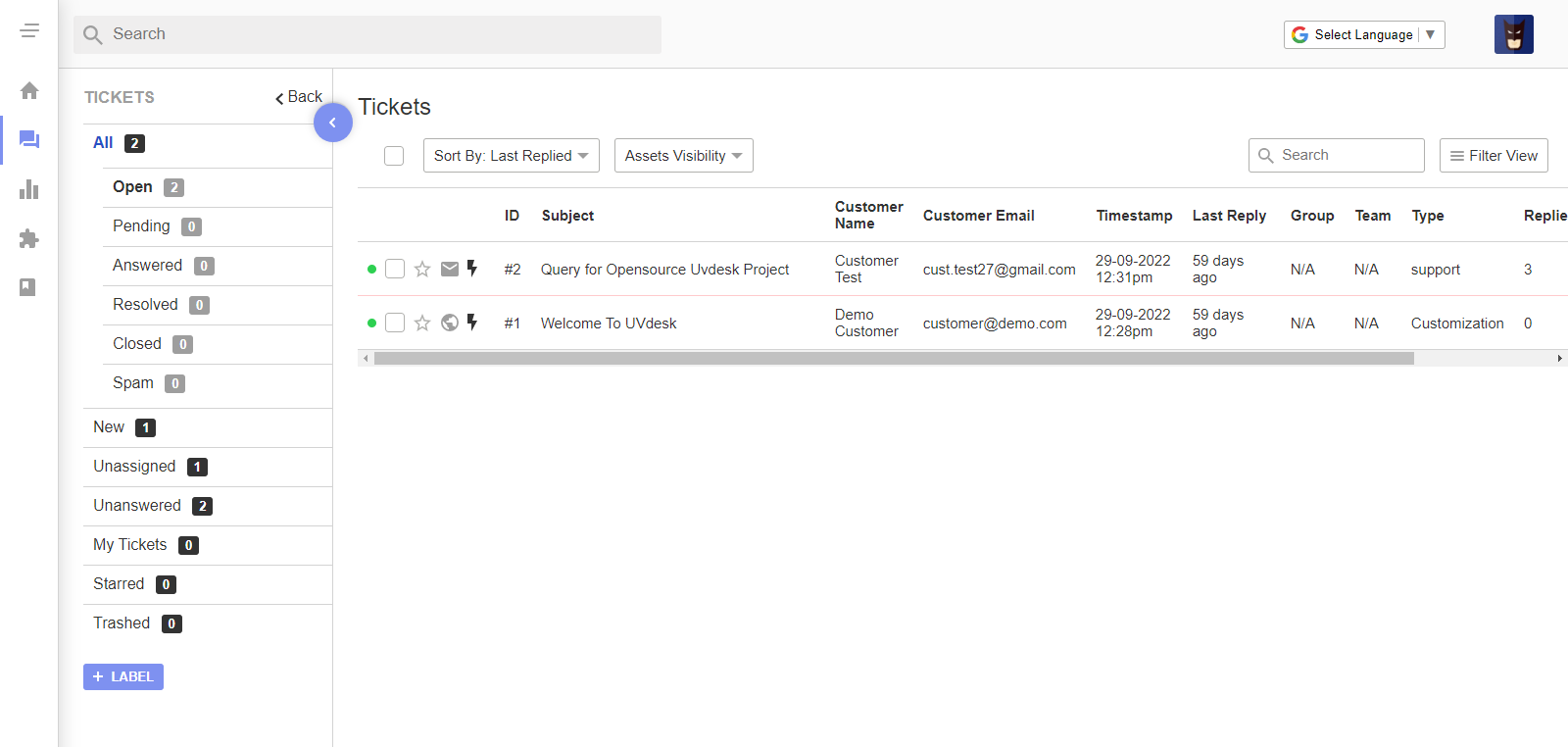 Technology: PHP
GitHub: https://github.com/uvdesk/community-skeleton
UVdesk is the multichannel helpdesk system for ecommerce, marketplace. UVdesk Team believes that in order to deliver the best customer service you don't need a big or complicated help desk. Some of the features: workflows, saved replies, tags, email integration. Releases appear not very often: 2-3 times a year. In some aspects this open source ticketing system mimics the previous – Faveo helpdesk. UVdesk's design is not super modern and sometimes looks and feels a bit primitive. The helpdesk probably would have benefitted if some professional designer could do some work on it. Out of the box it does not provide a possibility to separate tickets via departments or mailboxes. We also could not find UVdesk mobile apps.
The positive side of this helpdesk is the ability to connect it to different CMS and eCommerce platforms: Magento, PrestaShop, WooCommerce, Odoo CRM, Amazon, Shopify, Joomla, WordPress.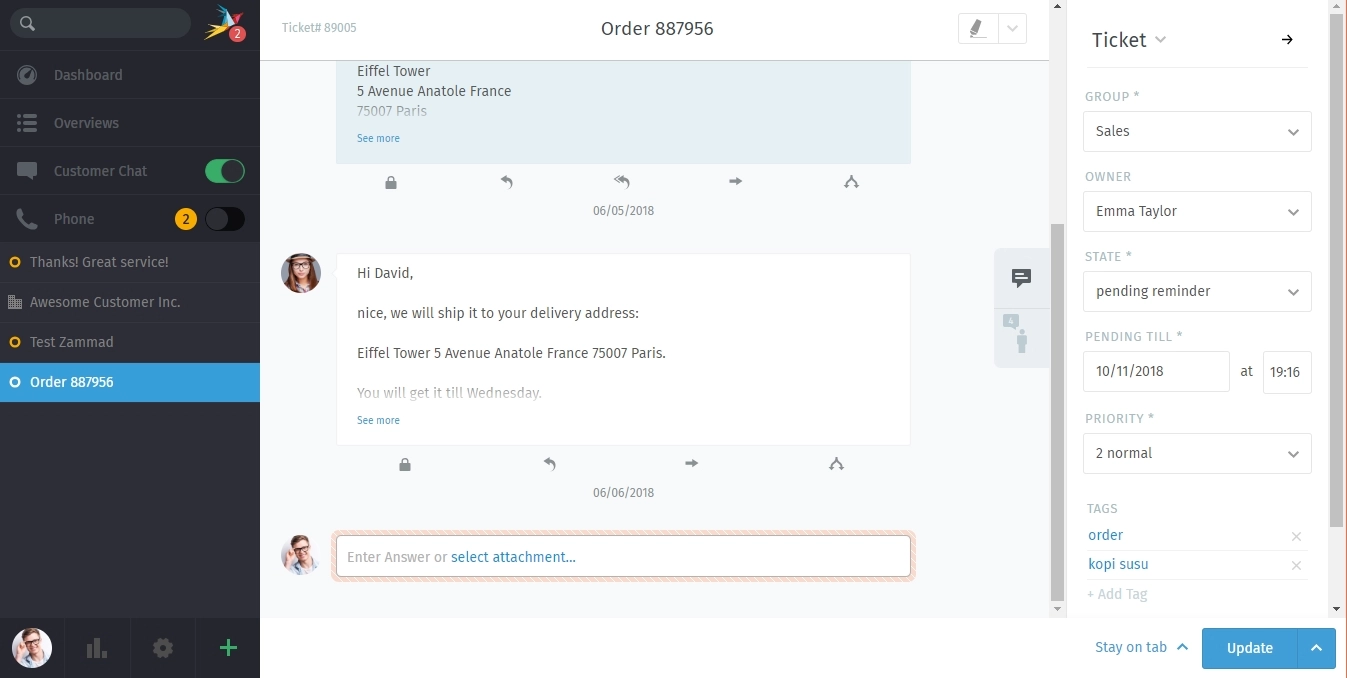 Technology: Ruby
GitHub: https://github.com/zammad/zammad
Zammad may work as a product / service support system, support for wholesale / retail or as IT service desk. It's based on many years of experience with ticketing systems – it's created in 2016 by the developer of the OTRS.
This is the only non-PHP open source helpdesk in our review – it's using Ruby. Installing it was a bit challenging experience. Some of the features Zammad boasts: autosave for tickets, opening multiple tickets at the same time without having to switch between browser windows, LDAP, ticket templates, etc. It's interface in many aspects copies Zendesk with all it's pros and cons. Like for example when you are replying to the ticket you don't see the customer to whom you are replying which is quite inconvenient. So usability is not the strongest side of Zammad. There are two main ticket types here: phone tickets and email tickets. It may be difficult to use Zammad for multiple businesses as all the tickets are located in one place and there is no way to isolate them from each other. There is an Android app providing basic features, but we could not find an iOS app.
---
CONCLUSION
That's it for today. We did not mention it yet but all of the reviewed helpdesks provide a REST API as it's must have in today's IT world.
Now you have a good overview of the available free support solutions and can easily choose one for your company as there are many criteria which need to be taken into account. The helpdesk should be convenient and easy to use, flexible and have a good user interface. If your support system is fast and reliable your support agents will be able to provide the best support experience to your customers, and your business will grow and benefit from it.