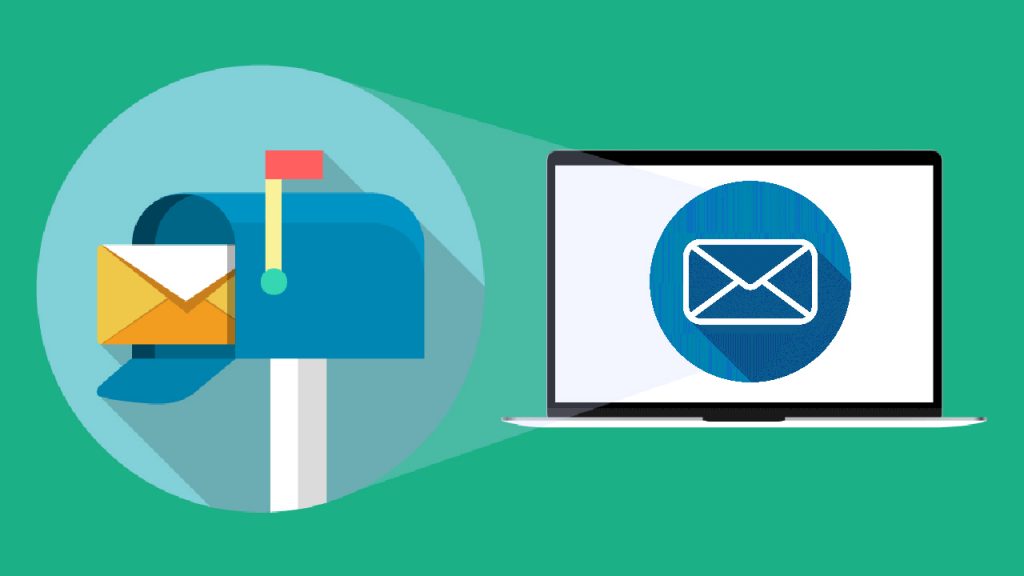 A shared mailbox is the type of mailbox which multiple users can use to send and read emails from the same email address. It does not require users to set up separate usernames and passwords like regular mailboxes. A shared mailbox can be used by more than one user at the same time. Shared mailboxes have proved time and again to be of utmost value for teams as they act as a useful tool for collaboration between them. Through a shared mailbox, collaboration and interaction between team members becomes easier. Not only a shared mailbox is used for sending and viewing emails but it has much to offer. A shared mailbox also acts as a common calendar and can be used to create tasks, and schedules. It allows team members to access and view the schedules, work shifts and vacations. To use a shared inbox, permission is granted to users that determine if the user can only view emails and calendar items or can also send emails as the owner and edit or delete them.
How is a Shared Inbox Different than a regular one?
A shared mailbox allows multiple users to view and respond to emails without the need of setting up usernames and passwords. While a regular user inbox can only be used by one user and a username and password is required in order to access that inbox. However, multiple users can use the shared inbox with the same email address. For example if the company's email address is abcd@yourdomain.com, multiple users can access the inbox with the same email without the password.
Benefits of a shared inbox:
1. Effective collaboration between teams
A shared inbox tool provides effective collaboration between teams. Before shared inboxes, team members used to forward emails to each other, but with the help of shared inbox, the interactions and collaboration has become hassle free.
2. Transparency and monitoring
With shared inboxes, emails or conversation can be monitored easily. The conversations are visible to every team members using the shared inbox and can be assigned to the desired team members.
3. Managing the workload
Shared mailboxes make it easier to tend to the large number of emails or queries by customers. Many businesses use it to enhance their customer support. Using shared inboxes, teams can not only collaborate effectively but can also make interactions with customers easier and faster.
There are many shared inbox tools available in the market having different features that one can choose according to their level of need. In this article we will discuss the three best shared mailbox tools of 2023 that can be of great help if you are looking for ways to manage the stream of emails.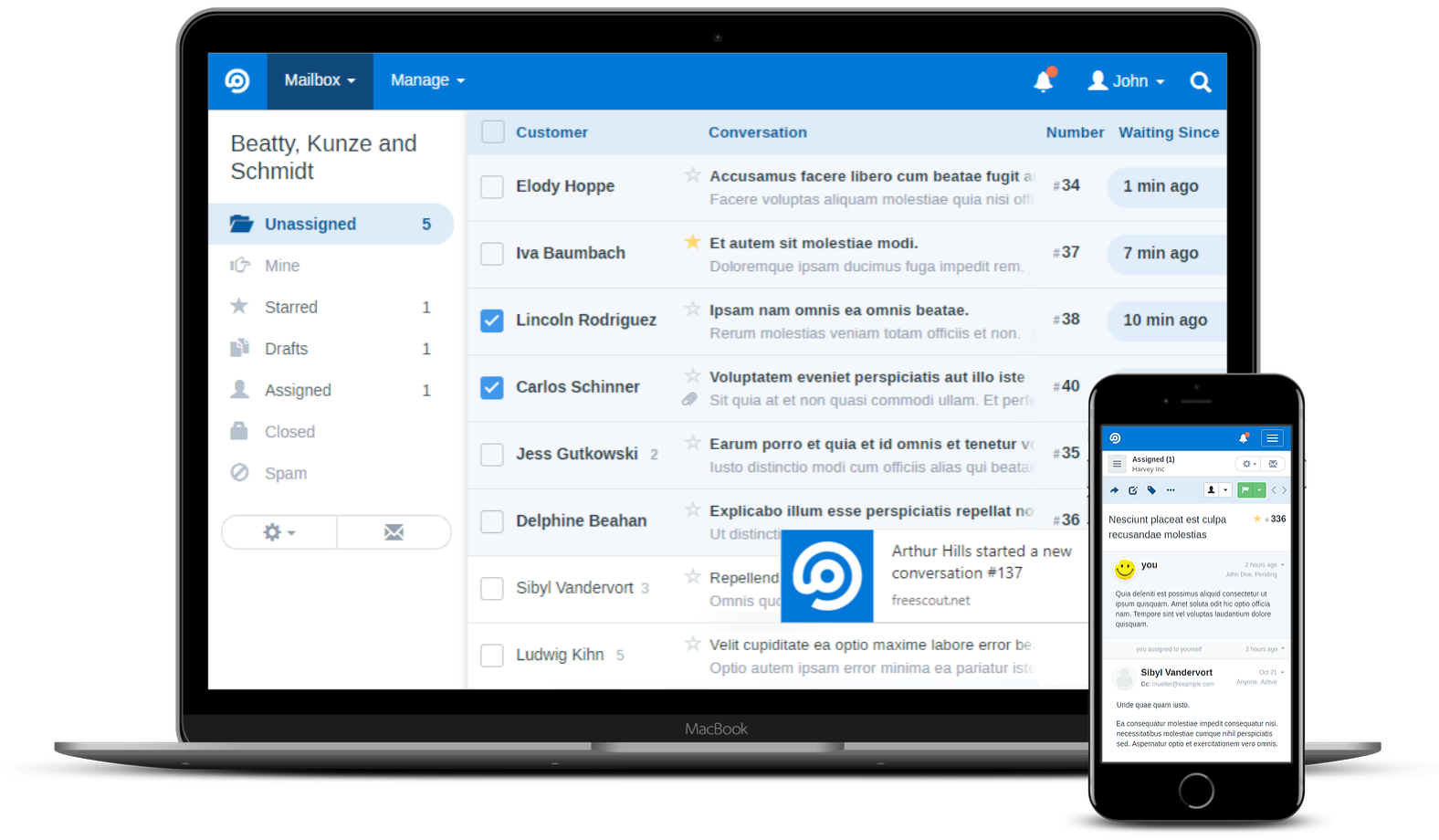 If you are looking for a light-weight, powerful and reliable shared mailbox tool, then Free Scout is the best option for you. Free Scout is the ultimate clone of Help Scout. With Free Scout, you can enjoy Help Scout and Zendesk for absolutely free and you will not have to compromise on your privacy. It is based on PHP/MySQL and can also be used on a shared hosting.
Free Scout is a free alternative to Help Scout. It is the best shared mailbox for people who do not want to spend money on a shared inbox tool. Free Scout is having all the features that Help Scout and Zendesk offer. Its like using Help Scout for free. It is easier to install and set up and offers many helpful features like, push notifications, auto replies, merging conversations, collision detection, open tracking, phone conversations and much more. You can use Free Scout to send conversations to multiple recipients at once, and easily edit and delete the emails. Free Scout also provides chat widget for websites.  Free Scout is a multi-lingual platform and provide support in various language i.e. English, Spanish, Dutch, French, Russian, Slovak, Croatian, Czech, Danish, German, Italian, Korean, Swedish, Japanese and Persian.
It is help desk type application that is mobile friendly. It provides many useful modules that you can choose to make your experience more effective.
Free Scout is a web-based platform that enables you to manage your shared mailbox. You can create an account and start using the tool right away. It has a clean and intuitive interface that makes it easy to use. The dashboard displays all the conversations in the shared mailbox, and you can filter them by status, agent, or conversation type.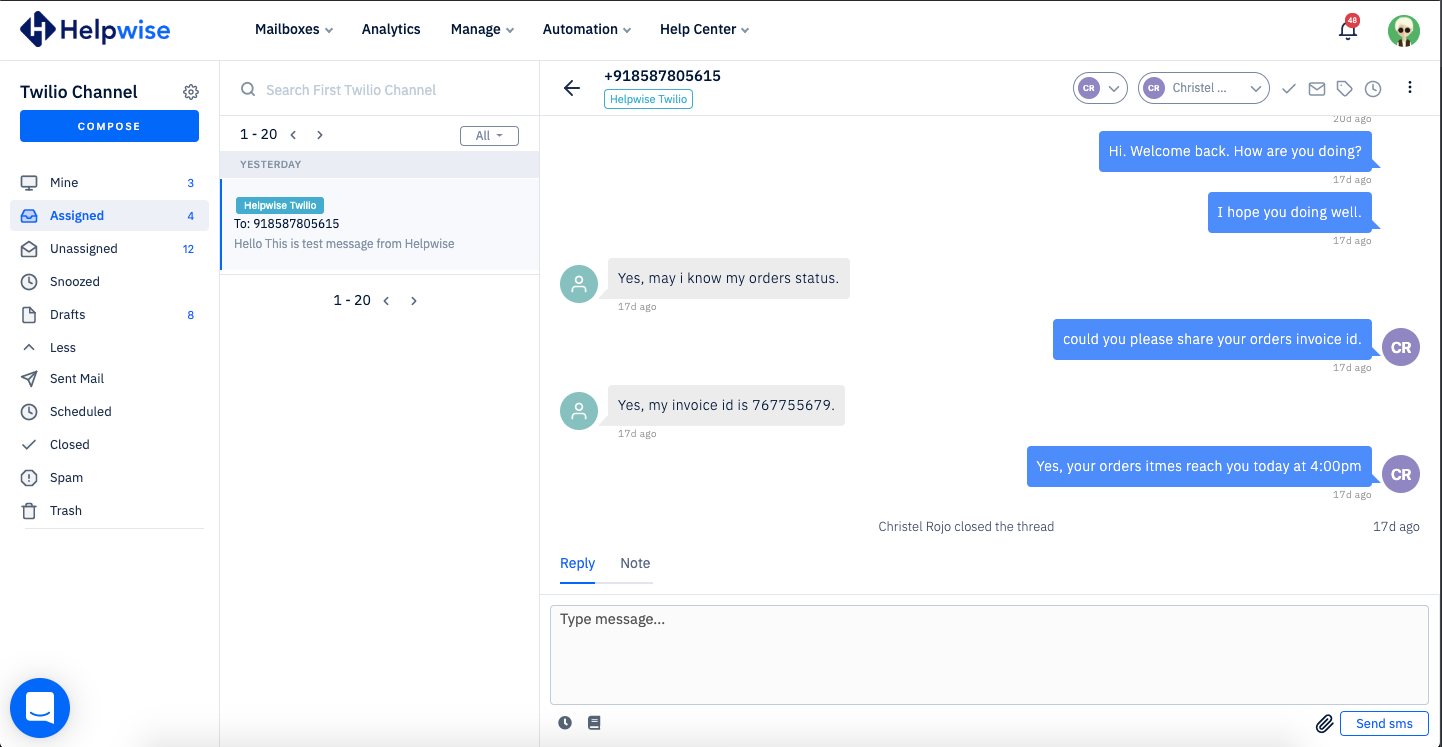 Helpwise is a useful shared inbox for all of your customer support needs. Whether you're looking for a simple way to manage customer queries from one central place, or if you need a more sophisticated solution with automated workflows, Helpwise is perfect for you.
Helpwise could be a team inbox for support groups to answer client queries across multiple channels. Helpwise offers team inboxes for email, SMS, WhatsApp, Facebook, Twitter and Live Chat with the exception of shared team inboxes. Helpwise is easy-to-use and have a user-friendly interface. To use a helpdesk, password is not required at all. Multiple users can use Helpwise without the need of a separate password or email address. Helpwise is mainly used for interactions with customers. It has made it very easy to interact with customs and answer their queries and provide them support in many ways. With Helpwise you can assign the conversations to the desired members of team, track the conversations the team members are having and also cave replies to answer queries quickly. Helpwise offers chat widget, email/help desk, forum and knowledge base.
If you are a fast growing business and receive hundreds of mails every day, Helpwise makes it easier to distribute the workload between team members, now you can easily distribute conversations to all your team members and distribute workload effectively. Overall, it is an amazing app to manage all the team mails on various platforms.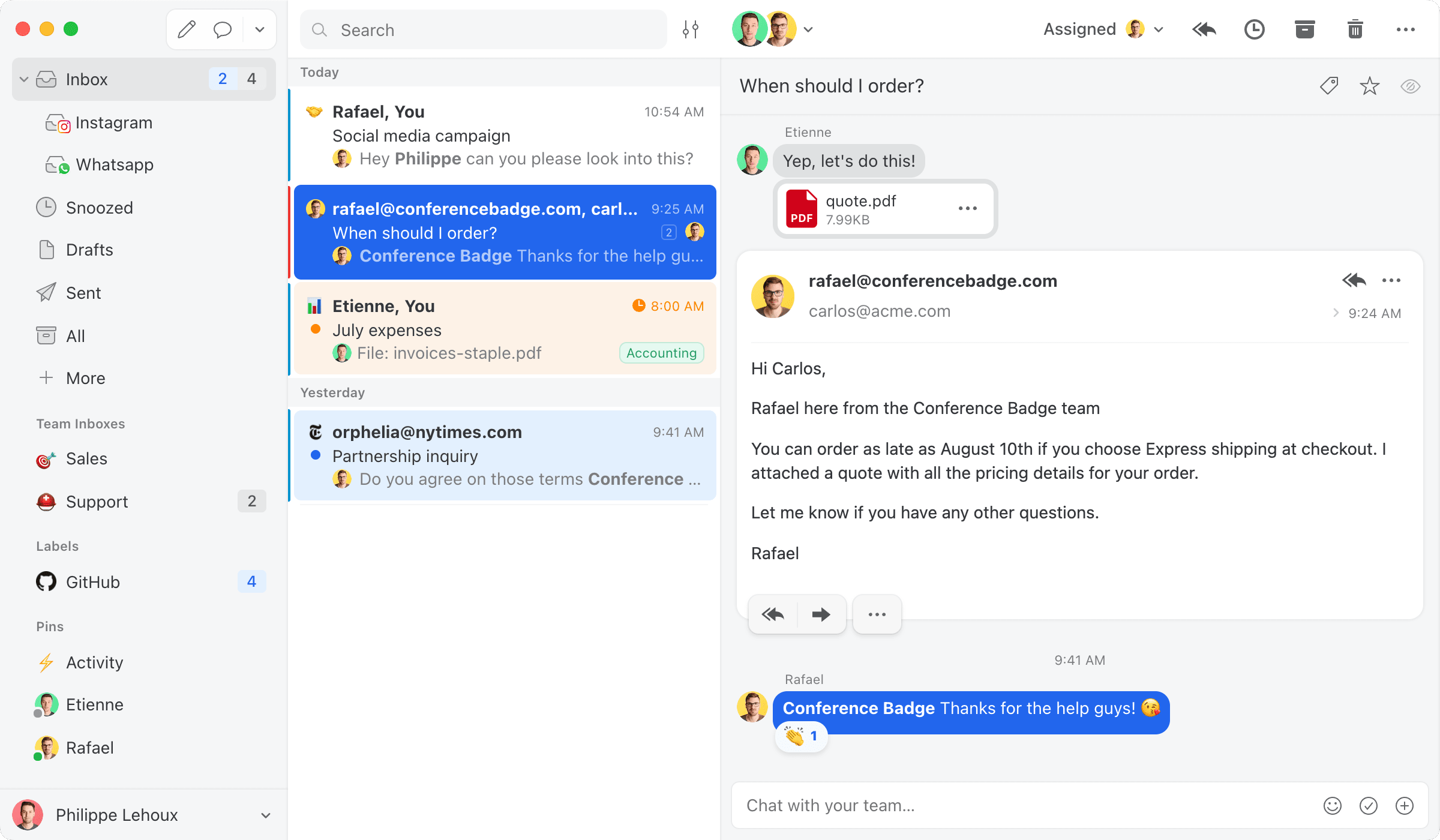 Missive is a project management tool that has been designed to help teams communicate more efficiently. The app's interface is very minimalistic, and it's been made to be as intuitive as possible. Missive is a blend of a live chat, a shared inbox, and project management software. You can also manage social media messages, though not all of them will be available at once.
Missive has been designed to be used by teams of all sizes, from small groups of two or three people to large companies with hundreds or thousands of employees. Teams can use the app in different ways: they can use it as a live chat tool for general communication; they can use it to share files with each other; they can use it for project management; or they can use it for social media management. The app has been built from the ground up with security in mind. When using Missive, two types of teams can be created:
Active Members: They receive notifications for new messages and can view conversations in team inbox's mailbox and team inbox.
Observers: Overseers do not receive notification of the messages received and they can see the conversations in the team inbox only. This type of team is perfect for the managers so that they can monitor the conversations and will not be flooded with the hundreds of notifications.
This app allows managers to assign conversations to team and also monitor it.
---
CONCLUSION
We do hope our review will help you to choose between various shared inbox solutions and boost your customer support efficiency.